This week we are inspired by Japan! Specifically, we are exploring Japanese music, art and literature.  We recently attended a Japanese music concert which included a heart-pounding performance by the Taiko drummers, balanced beautifully by grace and serenity of the traditional folk dances. Leading up to the concert we spent our time studying Japanese art, music and poetry and followed up with painting and instrument making activities at home.  In this post we just scratch the surface of everything that this immensely rich and beautiful culture has to offer.  We plan to use a similar, arts-focused framework to get a glimpse of India next week!
Start At the Library:  Our first stop was the library, which is where most of our arts journeys begin.  We found several books that were relevant to our topic of study:
Ten Oni Drummers by Matthew Gollub
How to Look at Japanese Art by Stephen Adidas
Japan: Enchantment of the World by Ann Heinrichs
Exhibition of Japanese Painting and Sculpture
Cricket Never Does by Myra Cohn Livingston
Red Dragonfly On My Shoulder by Sylvia and Kunhiro Suetake
Grass Sandals by Dawnine Spivak
As you can see from the list above we have a combination of books from children's and adult sections. When it comes to art albums, I believe that they are accessible at every age.  Our library's collection on Japan is somewhat limited and yours might have even better resources!
Continue Your Exploration at Home: We started our exploration of Japanese arts with Ten Oni Drummers.  This is a wonderful bedtime story that introduces the mystical Oni creatures and Taiko drumming as well as teaches your child to count in Japanese.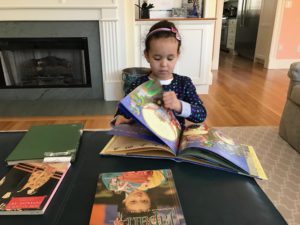 Valentina was inspired and fascinated by the rhythm of the Japanese numbers and the symbols that represented them.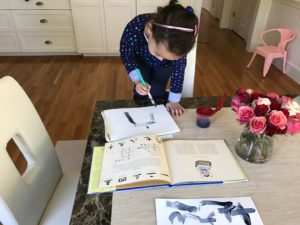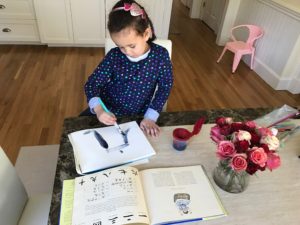 After all, they present perhaps an easier way to learn to count vs. the Hindu-Arabic  numerals familiar to us. For example: 1, 2, 3 are represented by symbols containing one, two and three lines respectively. A number like 12 is represented by 10 and 2 and a number like  20 consists of number 2 and number 10, so intuitively Japanese children learn that 12=10+2 and 20= 2*10 just by learning to write number 20 and so on.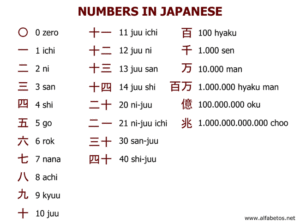 We continued our at home reading with How to Look at Japanese Art and Exhibition of Japanese Painting and Sculpture.  Some of the paintings were associated with ancient fables, which made them only more fun and relatable for a child.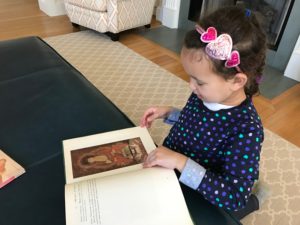 Finally, we also read several haikus and the story of Matsuo Basho – one of the most famous and loved poets in the Japanese history and a true haiku master.  As a literary form, haiku is perfect in its length and simplicity to keep the attention and captivate even the youngest readers.  Appealing to at least two of the five senses, they are especially effective when paired with beautiful illustrations. This is what we found in Grass Sandals: The Travels of Basho by Dawnine Spivak and Red Dragonfly On My Shoulder translated by Sylvia Cassedy and Kunihiro Suetake.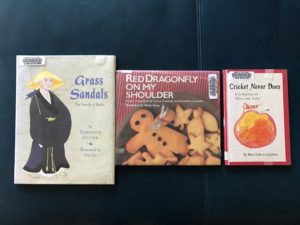 Experiencing a Live Performance:  MIT Japanese Association hosted Tamagawa University Taiko & Dance Group performance last weekend. 
The performance was simply breathtaking.  The heart-pounding drum beats were beautifully balanced by the grace and serenity of the traditional folk dances and the 90 minute performance kept even the youngest audience members engaged and tapping to the beat.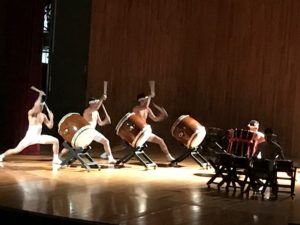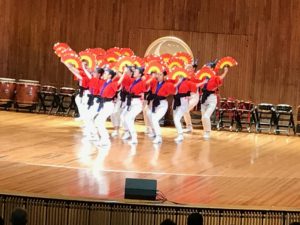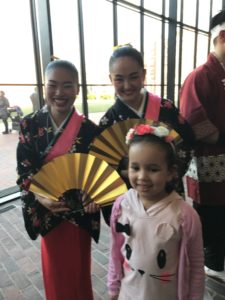 If you are interested in experiencing Japanese music and dance live, I recommend getting on your local Japanese culture groups and societies mailing lists.  The Tamagawa University performance tour the US every spring and will be back at MIT next year! In the meantime, here are several youtube links that will give you a glimpse of Taiko if you haven't experienced it before:
https://www.youtube.com/watch?v=BZDbUAE9vzo
https://www.youtube.com/watch?v=8zSa6Zz2Zrs
https://www.youtube.com/watch?v=C7HL5wYqAbU
https://www.youtube.com/watch?v=CsKqBy2uJ34
Follow up With Hands-On Activities at Home: Inspired by the thundering drums, our next adventure was making a drum at home.  We simply used one of the Easter buckets currently on sale at Stop & Shop (you can also use beach pails), some colorful scotch tape, two pencils, chopsticks, some tissue paper and packing tape.  We draped the colorful scotch tap tightly over the opening of the bucket making sure it was entirely covered and made drum sticks from pencils and tissue paper balls held together by packing tape. 
We also used our hands, and chopsticks to see if the sound differs by the object hitting the drum. Another fun activity on our list is making bi-colored fans similar to the ones held by the folk dancers!
We continue our exploration of Eastern cultures with a trip to see classical Indian dance performance this weekend. 
Triveni presents Devi the Goddess @ BU Dance Theater (Entrance on Buick Street) 3pm on Saturday April 8th.
Join us!
Anna and Valentina