This week we are inspired by geometric shapes and the  artists who drew them! Specifically, we are taking a closer look at the works of Kasimir Malevich and Piet Mondrian, their use of shapes, lines and colors.  Growing up in Russia, I frequently visited all of the major Moscow art museums with my parents and will never forget the first time I saw Malevich's Black Square at the State Tretyakov Gallery.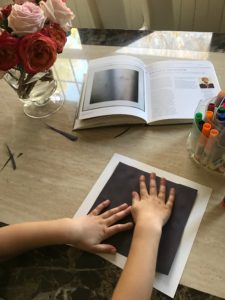 It hang there austere, cold and shockingly simple, as though mocking the lush and intricate realism of his predecessors. In many ways, his work was also symbolic of the stark transformation in the society leading up and following the revolution of 1917. I will be honest, I was not a big fan of his works until much later.   However, I will never forget the feeling of shock and curiosity that they evoked.  Malevich was certainly not alone in his search for a new, cubism-inspired art form.  The post below, walks through our hands-on approach to learning about shapes in art that can also be applied to other artists and art forms (Mark Rothko and Bennett Newman are next on our list!).
Visit the library first:

 

Once again, all roads lead to your local library. This is where most of our projects tend to begin as we gather the relevant books and audio/visual materials on the subject.

 

Our library had two books containing the works of Malevich and Mondrian

 

– 50 Modern Artists You Should Know by Christians Weidemann and Paths to the Absolute by John Golding.

 

While these are not exactly children's books, the contain several high quality reproductions of the artists' famous works that are accessible at any age.

 

At the same time, the text allows the grown-ups do their own research and be able to tell the artist's story in a more child friendly form.

 

If like me, you need a refresher on art history, you might just find yourself borrowing some of the learnings from these books for your next grown-up conversations 🙂 .

 

There is one children's book that I recommend for this weeks topic:

 

The Perfect Square by Michael Hall.

 

We own it at home but most libraries have it as well.
Start exploring shapes with the children's book illustrations:

 

We recently discovered The Perfect Square by the award winning graphic designer and illustrator Michael Hall and it has quickly become my daughter's favorite. The book teaches the readers to look beyond the simplicity of the square shape and imagine all the possibilities that lie within.

 

It is also a perfect book for an art project as every page offers ideas for transforming a simple square into something fun and vibrant.

 

After reading the book several times, we decided to attempt to recreate the art within it.

 

We had a lot of fun and as the result, strengthened our cutting and pasting skills as well as learned to use a ruler and a hole puncher!
Continue exploring shapes in the renowned artworks:

 

Starting with a children's book about a simple square made for an easy transition to Malevich's

 

and Mondrian's work. 

Malevich:

 

First we studied the Black Square and the White Square on White and talked about the feelings that these paintings evoked and how they compared to the other paintings that we've seen at the museum.

 

Next we attempted to recreate them in the same way as we did with the red square in the previous section.

 

Feeling confident and inspired, we moved on to his multi-shape works: Painterly Realism of a Football Player: Colour Masses in the Fourth Dimension and Suprematist Paintings: Aeroplay in Flight .
 
Mondrian: Malevich and Mondrian were just 4 years apart in age but lived in two very different worlds. Yet they shared similar philosophies in their art, were influenced by cubism and futurism, deployed shapes as well as a similar color palette (black, white and primary colors).

 

While certainly unique, there are some striking similarities in their art works that were easily perceived even by my 4 year old.

 

I realize that I am oversimplifying both artists' works in this post but my goal is to expose my daughter to it and help her have fun in the process! For a much more informative overview on Mondrian and Malevich I recommend reading

 

Paths to the Absolute by John Golding and this very comprehensive lesson from MOMA: 
 
I also realize that recreating these works in their entirety is a daunting task, especially for some of the youngest artists : ) and recommend focusing on a  small fragment of the art work that your child likes the best and then gradually expanding through the weeks that follow. This project took us three days !
Follow Up with a trip to a Museum: There is nothing like seeing the artists work live in the museum, especially after weeks of studying them at home. Use this link to find if the artists you are studying is exhibited in your local museum:

http://www.artcyclopedia.com

 

I recommend bringing the books that inspired you to the museum and going on a "scavenger hunt" to find the artists' paintings. I also recommend bringing a sketching pad and color pencils to allow your child make their own drawings or captures some of the art works and its fragments. This is something you can do together!

 

Focusing on a specific group of artists and art works will make the trip to the museum more effective and less overwhelming.

 

The MFA currently has 3 works by Piet Mondrian.

 

If your local museums do not have the artists you are looking for, make sure to check the museums at your next vacation destination using the link above!
In the next two weeks we take a break from the Western arts and will be exploring classical Indian dance and Japanese music. We will be attending Devi the Goddess performed by the Triveni ensemble at the BU Dance Theater on April 8th  http://devi.brownpapertickets.com/ and Tamagawa Taiko & Dance at MIT on April 2nd http://www.japansocietyboston.org/event-2448425
Join us!